This festival has passed.
Glastonbury Festival
Festival Navigation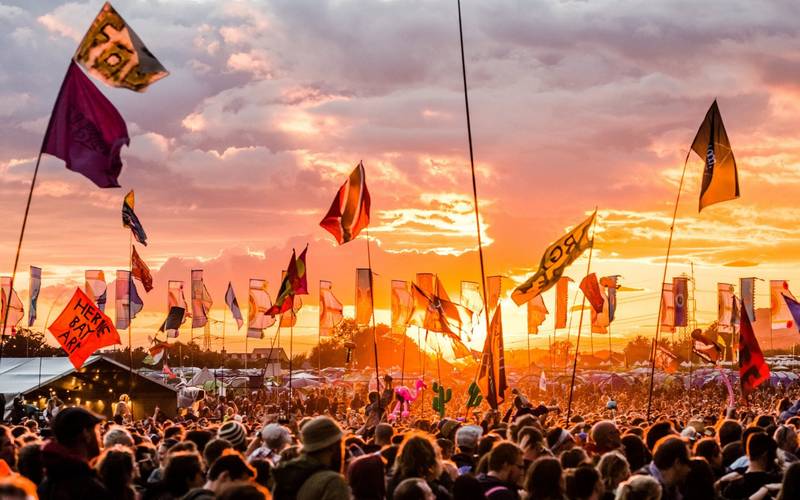 Glastonbury Festival will be held at 23 June 2021 – 27 June 2021.
Festival Details
Glastonbury Festival (formally Glastonbury Festival of Contemporary Performing Arts) is a five-day festival of contemporary performing arts that takes place in Pilton, Somerset, in England. In addition to contemporary music, the festival hosts dance, comedy, theatre, circus, cabaret, and other arts. Leading pop and rock artists have headlined, alongside thousands of others appearing on smaller stages and performance areas. Films and albums recorded at Glastonbury have been released, and the festival receives extensive television and newspaper coverage. Glastonbury is attended by around 200,000 people, requiring extensive infrastructure in terms of security, transport, water, and electricity supply. The majority of staff are volunteers, helping the festival to raise millions of pounds for charity organisations.
Regarded as a major event in British culture, the festival is inspired by the ethos of the hippie, counterculture, and free festival movements. It retains vestiges of these traditions, such as the Green Fields area, which includes sections known as the Green Futures and Healing Fields. After the 1970s, the festival took place almost every year and grew in size, with the number of attendees sometimes being swollen by gatecrashers. Michael Eavis hosted the first festival, then called Pilton Festival, after seeing an open-air Led Zeppelin concert at the 1970 Bath Festival of Blues and Progressive Music. The festival's record crowd is 300,000 people, set at the 1994 festival, when headliners the Levellers performed a set on The Pyramid Stage.
Glastonbury Festival was held intermittently from 1970 until 1981. Since then, it has been held most years, except for "fallow years" taken mostly at five-year intervals, intended to give the land, local population, and organisers a break. 2018 was a "fallow year" and the following festival took place from 26 – 30 June 2019. The 2020 festival was cancelled and 2020 was officially considered a "fallow year" as a result of the COVID-19 pandemic.
---
Video
---
Location
Pilton
Somerset
United Kingdom
Festival Type
Art
Performing Art
More Info
Festival Website
instagram
facebook
twitter
youtube
wikipedia
google
---
Glastonbury
Glastonbury Festival
Glastonbury Festival of Contemporary Performing Arts