This festival has passed.
EXIT Festival
Festival Navigation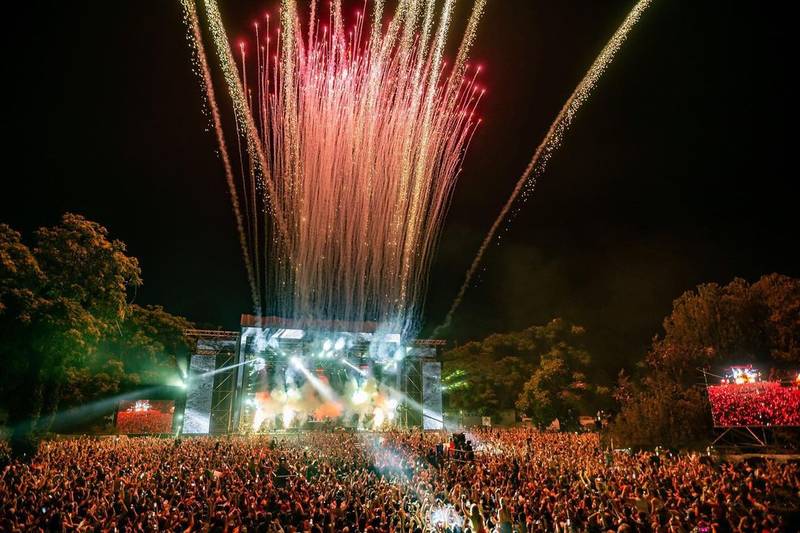 EXIT Festival will take place 7-10 July 2022 in Serbia.
Festival Details
Exit (Serbian: Егзит / Egzit; stylized as EXIT) is a summer music festival which is held at the Petrovaradin Fortress in Novi Sad, Serbia. Founded in 2000, it has twice won the Best Major Festival award at the European Festivals Awards, for 2013 and 2017. EXIT has also won the "Best European Festival" award at the UK Festival Awards in 2007. In March 2018 Regional Cooperation Council awarded EXIT Festival as Champion of Regional Cooperation for 2017.
The festival was founded in 2000 in Novi Sad, Serbia as a student movement, fighting for democracy and freedom in Serbia and the Balkans. After the Yugoslavian general election in 2000, Exit moved from the city's university park to the Petrovaradin Fortress in the same city in 2001. Nonetheless, social responsibility is still key aspect of the festival activities. In February 2007, management of the festival has given away the festival to the ruling political party in Novi Sad, which gave away the political change and the questionable views, contrary to the movement upon which the festival was initially based upon.
In 2007 Exit won the Best Overseas Festival award at the UK Festival Awards and was voted Best European Festival at the Yourope Awards. It won the Best Major Festival award at the European Festivals Awards in 2013 and 2017.
In 2006 The Observer listed Exit as its festival pick in its list of top 25 travel experiences. The Guardian listed it in "12 top trips for 2008". The international edition of CNN, CNN World Fiesta, included Exit on the list of nine best music festivals in the world in 2011. In 2013 Euronews listed Exit as sixth in its pick of 10 European music festivals. In 2018 BBC News noted Exit as one of the world's largest music festivals, hosting more than 200,000 people from 60 countries. In June 2019 Forbes published an article claiming that "Thanks to the upcoming EXIT Festival, Serbia is now a new festival hot spot worth your attention".
Superbrands Serbia 2006–2007 listed Exit as one of seven public urban identity superbrands. In March 2018 in Sarajevo, Bosnia and Herzegovina, the Regional Cooperation Council awarded the Exit Festival as Champion of Regional Cooperation for 2017.
In 2020, Exit was scheduled to organize five events in four countries in South-East Europe: Sea Star Festival (Umag, Croatia) in May; Revolution Festival (Timișoara, Romania) in August; Exit Festival (Novi Sad, Serbia) in July; Sea Dance Festival (Budva, Montenegro) in August; and No Sleep Festival (Belgrade, Serbia) in November. Due to the 2019/20 COVID-19 Pandemic, all festivals organized by the Exit group have been postponed until 2021, except the Exit Festival, which has been pushed back to August 2020 at first, but ultimately postponed until July 2021, with a 4-day live-stream edition organized in September 2020, with only 250 daily attenders allowed live. Previously, Exit also organized Festival 84 (Jahorina Mountain, Bosnia and Herzegovina), which was cancelled in February 2019 due to administrative reasons beyond the organizers' control.
---
Video
---
Location
Novi Sad
Petrovaradin Fortress
Serbia
Festival Type
Dance Music
Electronic Music
Rock Music
More Info
Festival Website
instagram
facebook
twitter
youtube
wikipedia
google
Artists
David Guetta
DJ Snake
Eric Prydz b2b Four Tet
Nina Kraviz
Paul Kalkbrenner
Paul van Dyk
Sepultura
Solomun
---
EXIT
EXIT 2.0
EXIT 2021
EXIT Festival
EXIT Festival 2021