This festival has passed.
Ohrid Summer Festival
Festival Navigation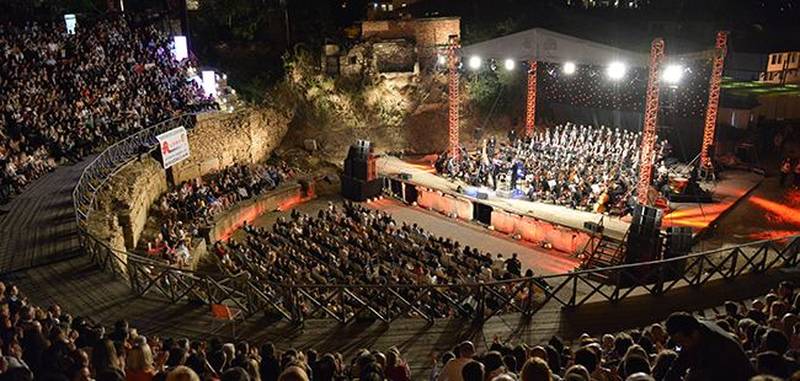 Ohrid Summer Festival will be held in July.
Festival Details
Ohridski Trubaduri – Ohrid Fest is a music festival that takes place in Ohrid, North Macedonia every summer. It began in 1994 as a showcase for Macedonian summer folklore. In 1997, a pop evening was introduced to motivate Macedonian lyricists and composers, as well as artists. In 2003, an international evening was added to the program, which consists of foreign artists performing their songs along with the best placed songs from the pop evening. The festival has become prominent within the Balkan region which led to its broadcast in different countries such as Bulgaria, Croatia, Montenegro, Serbia, and Greece. The winners of the festival are awarded with a monetary prize as well as promotional products from the sponsors.
In 2008, a fourth night was added to the festival in which amateur or unrecognized singers would compete to qualify for the pop evening. The Ohrid Summer Festival is a festival founded on 4 August 1961, always taking place between 12 July and 20 August in the city of Ohrid, North Macedonia. It is financed by the Ministry of Culture of North Macedonia and sponsors. The President of North Macedonia is the patron of the festival. The festival featured prominent artists since 1961, i.e. José Carreras. Since 1994, the festival is a member of the European Festivals Association.Many world-renowned musicians like Leonid Kogan, Svyatoslav Richter, Grigory Sokolov, Andre Navarra, Martina Arroyo, Henryk Szeryng, Ivo Pogorelić, Mstislav Rostropovich, Aldo Ciccolini, Gidon Kremer, Ruggiero Ricci, Viktor Tretiakov, Salvatore Accardo, Elena Obraztsova, Katia Ricciarelli, Victoria de los Ángeles, Maxim Vengerov, Vadim Repin, Julian Rachlin, Michel Camilo, Paul Meyer, Dmitri Hvorostovsky, Leo Nucci, Barbara Frittoli, Jessye Norman, Nigel Kennedy, Zubin Mehta, Ennio Morricone, Mikhail Pletnev, and many other have performed at Ohridski Leto.
---
Video
---
Location
North Macedonia
Ohrid
More Info
Festival Website
instagram
facebook
twitter
youtube
wikipedia
google
---
Ohrid Festival
Ohrid Summer Festival