This festival has passed.
Lollapalooza Festival
Festival Navigation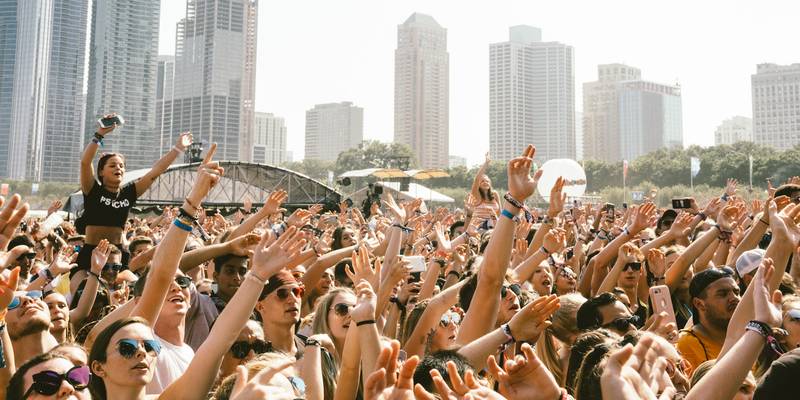 Lollapaloozawill be held in July.
Festival Details
Lollapalooza is an annual four-day music festival based in Chicago, Illinois at Grant Park. Performances include but are not limited to alternative rock, heavy metal, punk rock, hip hop, and electronic music. Lollapalooza has also provided a platform for non-profit and political groups and various visual artists. The four-day music festival in Grant Park hosts an estimated 400,000 people each year and sells out annually. Lollapalooza is considered one of the largest and most iconic music festivals in the world and one of the longest running in the United States.
Conceived and created in 1991 by Jane's Addiction singer Perry Farrell as a farewell tour for his band, Lollapalooza ran annually until 1997, and was revived in 2003. From its inception through 1997 and its revival in 2003, the festival toured North America. In 2004, the festival organizers decided to expand the dates to two days per city, but poor ticket sales forced the 2004 tour to be cancelled.
In 2005, Farrell and the William Morris Agency partnered with Austin, Texas–based company Capital Sports Entertainment (now C3 Presents) and retooled it into its current format as a weekend destination festival in Chicago at Grant Park. In 2014, Live Nation Entertainment bought a controlling interest in C3 Presents.
In 2010 it was announced that Lollapalooza would remain in Chicago while also debuting outside the United States, with a branch of the festival staged in Chile's capital Santiago on April 2–3, 2011 where they partnered up with Santiago-based company Lotus. In 2011, the company Geo Events confirmed the Brazilian version of the event, which was held at the Jockey Club in São Paulo on 7 and 8 April 2012. On September 13 the Argentine version appears , starting on April 2014 in Buenos Aires, and in November 2014, the first European Lollapalooza was announced, which was held at the former Tempelhof Airport in Berlin.
---
Video
---
Location
Chicago
Grant Park
Illinois
USA
More Info
Festival Website
instagram
facebook
twitter
youtube
wikipedia
google
---
Lollapalooza
Lollapalooza Chicago
Lollapalooza Festival
Lollapalooza Music Festival